Drugs hidden in ice cream lorry are seized at Port of Dover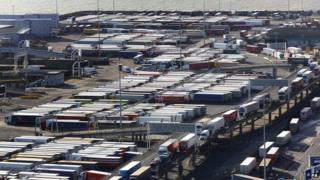 Drugs with an estimated street value of £7m have been found hidden in a lorry laden with ice cream.
Almost 200lbs (90kg) of cocaine and 138lbs (63kg) of heroin were found after a sniffer dog showed interest in the rear of a Dutch-registered lorry at the Port of Dover.
The drugs were discovered in the lorry's bodywork.
A 30-year-old man from the Netherlands was arrested and bailed for three months while inquiries continues.