Ramsgate's Marlowe Academy to merge with Ellington and Hereson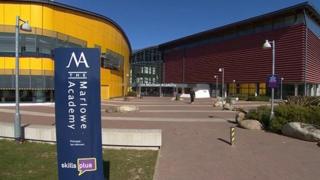 Two Ramsgate secondary schools are to merge in a bid to raise standards and attract more pupils.
The struggling Marlowe Academy and the Ellington and Hereson School will join forces from September 2015.
School governors said Marlowe required a "fresh approach" while the current Ellington and Hereson site was restricting its growth.
But the merger has provoked anger from some parents who say the move will hinder learning.
'Guinea pig year'
Kim Achilleos told BBC South East: "It's all about money at the end of the day and September's Year 10s will be paying the price.
"They are going to be the guinea pig year that are experimented on to see if it works. My son is going to be in the year that is going to be affected the most, which is why I am so angry about it."
More than 500 people have signed a petition calling for Kent County Council to halt to the merger.
The Marlowe Academy has a history of poor performance. It was once rated the worst school in England in league tables for maths and English.
In 2011, it was placed in special measures following a damning Ofsted report.
"Acting decisively on underperformance is a key part of our plan for education," a spokesman for the Department for Education said.
"The new school will provide a greater range of subjects and draw on the expertise of the sponsor, who is already running schools rated good and outstanding by Ofsted."
---
Marlowe's struggle to survive
September 2005 - Marlowe Academy opens
January 2008 - Marlowe Academy is named as the worst school in league tables for maths and English
March 2012 - The government puts the school into special measures deeming its teaching, leadership and staff inadequate
October 2013 - Ofsted says Marlowe Academy "requires improvement" and its low levels of literacy are a major problem
November 2014 - The school's "senior leaders, trustees and sponsor are not taking effective action to tackle the areas requiring improvement," according to Ofsted
April 2015 - Proposed merger announced
---