Gravesend street drinkers: 'More shops need to join scheme'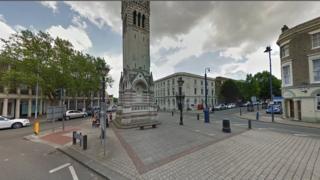 Three out of more than 60 off-licences, shops and pubs have signed up to a scheme to stop the sale of high-strength alcohol in Gravesend.
The town's "Reduce the Strength" campaign asked licensed premises to take beers, lagers and ciders over 6.5% ABV off the shelves.
Councillor Tan Dhesi said they would have liked more shops but added the scheme was "only in its infancy".
One shopkeeper said removing the products increased other sales by 20%.
Retailing course
Mr Dhesi said the area of Gravesend near the clock tower had a problem with street drinkers and anti-social behaviour.
The Reduce the Strength campaign was publicised on the council's website and in newsletters and all the town centre off-licences had all been visited by council representatives.
"The three off-licences (who have joined) are very close to the area where the problem exists," he said.
"I am sure that as more retailers realise the benefits, others will take up the scheme.
"But we have had 60 alcohol outlets which have taken up the offer of going on a special education course on responsible alcohol retailing."
Nima Patel, who runs the Nisa Local store in East Milton Road, is one of the three who have stopped selling high-strength beers, lagers and ciders.
"The reason was to keep the notorious people out of the store and bring in more people who are spenders in terms of groceries and other things," he said.
"We saw an increase in groceries, dairy products and other goods.
"We saw a 20% increase in customers."