'Locked-in' pupils row school Brompton Westbrook praised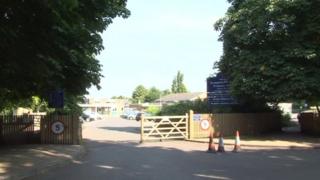 A primary school that was investigated following claims pupils were locked in an isolation room has been praised by inspectors.
Ofsted inspected Brompton Westbrook school in Gillingham last month.
In a report released on Wednesday inspectors rated all areas as good and described early years provision as outstanding.
The school said it had been criticised recently but the Ofsted report showed the school was good and safe.
Parents had claimed pupils had been put in an isolation room for hours at a time, but Kent Police said there was insufficient evidence to bring criminal charges.
An investigation by Medway Council concluded there was a case of gross misconduct to be answered, but the school cleared staff of any wrongdoing.
'Very proud'
The Ofsted report said leaders had established a culture of high expectations, while teaching was consistently good and some was outstanding.
The watchdog said procedures for keeping pupils safe and managing their behaviour were good, with the result they felt well-cared for.
A spokesman for the school trustees said inspectors also spoke to parents during the inspection and families had agreed their children were safe.
He said: "We are rightly very proud of this Ofsted inspection.
"The school has been criticised in the media by a very small handful of parents recently.
"This Ofsted report, along with other investigations, fully supports our view that Brompton Westbrook is a safe and caring place for children."