Northfleet danger flats and shops fenced off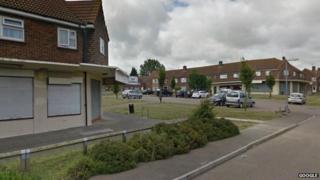 The last tenants of flats declared dangerous after subsidence caused a hole to open up in the ground nearby have been moved out.
Gravesham Borough Council said the block in Lawrance Square, Coldharbour, Northfleet, would be fenced off to stop people entering the site.
The hole appeared last month, causing a sewer to break and contaminate water supplies. Gas supplies were turned off.
Seven tenants have been rehoused and six shopkeepers told to move out.
'Dangerous structure'
The council said it would provide temporary buildings for retailers whose shops were underneath the flats as soon as possible.
The council said latest results from structural engineers showed the hole was still causing the building to move.
"We have no alternative but to warn people that this structure is deemed dangerous and our insurers have insisted that the site is closed," said a council spokesman.
The council previously said not all the residents wanted to move but they could not be allowed to stay in homes at risk of subsidence and without basic services.