Two Medway councillors join UKIP ranks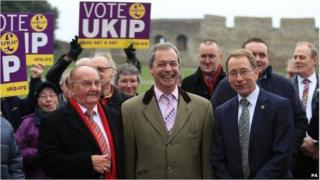 Two Medway councillors will stand for UKIP in the coming local elections in May, the party has announced.
Councillors Tom Mason and Vaughan Hewett were both Conservative members.
Mr Mason is said to be the longest-serving councillor on Medway Council. Mr Hewett left the Tories last year to become an Independent Conservative.
UKIP leader Nigel Farage said the defections took to four, the number of UKIP members on Medway Council, making them the third largest group.
The council is currently Conservative-led.
Before the two members switched to UKIP, Medway's Tories held 32 seats, followed by Labour with 17, the Liberal Democrats with three, UKIP with two, and Mr Hewett as the single Independent Conservative councillor.