World War Two German bomb detonated at Cliffe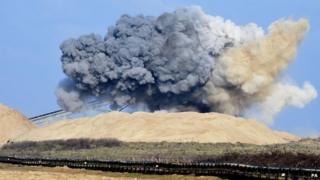 A World War Two bomb has been destroyed in a controlled explosion in Cliffe in Kent.
The unexploded German 1,000lb (454kg) device was found in south-east London on Monday.
Bomb disposal experts from the British Army had built a protective "igloo" around the 5ft (1.5m) device to protect surrounding buildings.
Homes within a 200m exclusion zone were evacuated before the device was transported to Kent to be detonated.
The bomb was found by construction workers on the old site of the Southwark Irish Pensioners Centre in Bermondsey