Subsidence fears at Swanley sinkhole site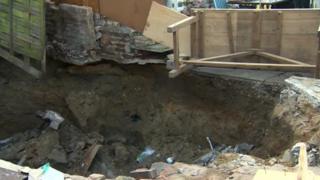 Residents near the site of a sinkhole have been moved into temporary accommodation after building inspectors raised subsidence fears.
The hole swallowed two sheds after it opened up in Oliver Road, Swanley, Kent, last Thursday.
Sevenoaks Council said it did not feel it was safe for people living in two homes to return at present.
The authority said it was not responsible for privately-owned properties but had to ensure safety.
A spokeswoman said officers were satisfied there was no immediate danger to life as long as people kept away from the hole, but did find there was a possibility of further subsidence.
One woman accepted temporary accommodation and other residents have found their own while investigations continue, she said.
The council was continuing to liaise with structural engineers and Thames Water, she added.
Thames Water has found the collapse broke a sewer pipe and would remove wastewater until the ground was stable enough to carry out repairs.