Two held over Western Heights 'arsenic-coated' blocks theft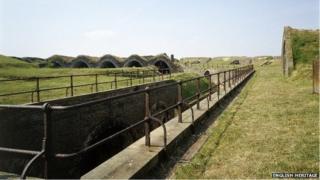 Two people have been arrested over the theft of 1,000 wooden blocks, thought to be coated with arsenic, which were stolen from a Kent tourist attraction.
The 6in (15cm) cubes were taken from the north entrance of the Dover Western Heights tunnels in February,
Police warned the public of the danger of an arsenic coating on the 100-year-old blocks, especially if burned.
A 51-year-old man and a 19-year-old woman, both from Dover, have been arrested on suspicion of theft.
Both have been released on bail until 20 April.
The flooring blocks may have been coated with an arsenic preserver, a method used by Victorians to treat wood, Kent Police said.
Insp Guy Thompson said: "Our main concern at the moment is to alert those who may come into contact with the flooring, that they could be a health hazard, especially if burned as fuel."