Carl Davies death: Family fleeing 'murder bubble'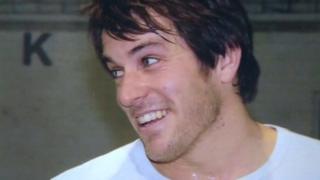 The family of a teacher found dead on an Indian Ocean island in 2011 say they are leaving their hometown in Kent because staying has become too painful.
Carl Davies, 33, died on Reunion Island in November 2011, two days after he arrived there.
The death was initially treated as an accident, but a murder investigation was started 10 days later.
Kerrie Stewart says everywhere she goes in their hometown of Sittingbourne is full of memories of her dead brother.
She and her parents are moving to Scotland.
'Memories everywhere'
Mrs Stewart said: "To lose someone to murder - it's such a dark and dirty, horrible world that no-one wants to be catapulted into.
"I need to go back to my happy place and Scotland is my happy place.
"It's not going to solve our problems, but I know it's going to help lessen the burden of being the 'sister of the boy who was murdered'."
Mrs Stewart has two daughters, one four years old and the other 13 months old.
She said: I don't want my children growing up to think 'Mummy was always really sad'. I want them to remember Mummy being happy."
Four men have been charged over the death of former marine Mr Davies, whose body was found at the bottom a ravine. Tests suggested he had been beaten to death.
Mrs Stewart said: "We will be remembering him in a different way, away from this murder bubble.
"[Here] he is everywhere - the last place I had lunch with him, the last place we walked together."
Mrs Stewart and her parents, Andrew and Maria Davies, are hoping a trial will begin later this year.
"Wherever we go Carl will be in our hearts," Ms Stewart added.