Marlowe and Folkestone academies principal Sean Heslop suspended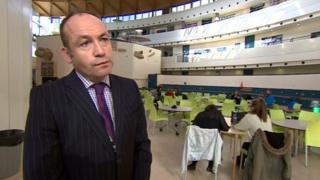 The executive principal of two Kent academies sponsored by former Saga boss Sir Roger De Haan has been suspended.
Sir Roger's office said Sean Heslop had been suspended from duties at the Marlowe Academy in Ramsgate and Folkestone Academy.
An investigation is under way, but Sir Roger said it was confidential and did not disclose its nature.
Marlowe Academy was put into special measures in March 2012 and is to merge with Ellington and Hereson School.
Ofsted classified Folkestone Academy as requiring improvement in 2013.
Mr Heslop was appointed as Folkestone Academy principal in 2009 and became executive principal of both schools in 2013.
Sir Roger, who runs a family charitable trust and sponsors the two schools, retired from over-50s company Saga in 2004.
He was knighted in 2013.
His office said the suspension of Mr Heslop would not affect the routine of the two schools.
"This has not interfered with and will not inhibit the good work going on in the schools, where the respective head teachers and their senior leadership teams ensure that teaching and other school activities continue as normal," it said in a statement.