Dover Athletic fan banned over dead child comments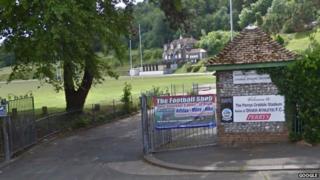 A spectator who made "abhorrent" comments to a footballer about the death of his child has been given a lifetime ban by a football club.
Dover Athletic banned the individual after the comments at Monday's home Conference match against Woking.
Chairman Jim Parmenter said: "Everyone at Dover is saddened and disgusted that such deplorable behaviour, for which there can be no mitigation, has occurred at our club."
The ban begins with immediate effect.
Mr Parmenter added: "Our sincerest regret and apologies go to the player and his family.
"We make great effort to be welcoming, hospitable and inclusive to all and I hope that our supporters will not be judged on this one individual.
"Following the conclusion of our investigation the individual involved will be issued with a life ban with immediate effect."