Swanscombe business fears over Paramount theme park site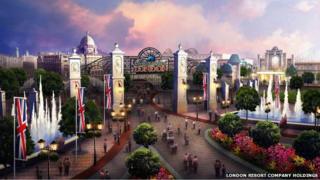 More than 50 companies on the site of a planned £2bn Paramount entertainment park in Kent have received letters they fear could be the start of compulsory purchase orders (CPO).
Businessman Kirk Dugard said the firms knew something was in the pipeline but the letters "came out of the blue".
Paramount said it was working to understand who had an interest in the project on the Swanscombe Peninsula.
And the company also said this did not mean it was developing the whole site.
'Reluctant to move'
Mr Dugard, manager of Simpsons Removal and Storage Ltd, said the letters asked businesses to confirm their land titles and freehold tenure.
The letters said Paramount was applying for a development consent order in order to seek powers to acquire the necessary land, he added.
He said he believed businesses affected would have to agree to offers made to them or become subject to a CPO.
Mr Dugard said the firms would need to find alternative sites within the development timescale.
When asked where they might go, he said: "We're reluctant to move out of the area, but the announcement by Paramount that the development was going to go ahead has meant that land prices locally have soared, so we haven't got any idea."
David Testa, from London Paramount, said the company had been talking to landowners to discuss what the project could mean for them.
"This doesn't mean we are proposing to develop the whole site within the borders of our application, but we have a legal responsibility to try to understand who has an interest in the project so that they can formally be consulted," he said.
He said the next consultation dates would be announced soon.