TV antiques expert Alison Chapman's shop raider jailed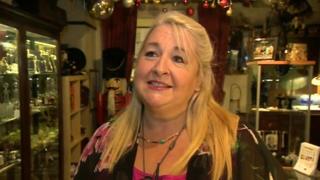 A man who raided a TV presenter's antiques shop and took thousands of pounds worth of jewels has been jailed.
Anthony Foord, 35, of Reachfields, Hythe raided the town's Owlets shop, owned by Alison Chapman of ITV's Secret Dealers and Dickinson's Real Deal.
At Canterbury Crown Court, he was jailed for a total of five years, which included custodial terms for offences unconnected to the raid.
The court was shown CCTV images of Foord's raid, last November.
The defendant had pleaded guilty to burglary, at an earlier hearing.
Images captured by store security cameras showed Foord on smashing the shop front and a display cabinet.
In the days after the the raid, Ms Chapman said: "It is one thing hearing you have been robbed but actually seeing someone rob you is horrifying."
"It made me feel violated and it made me feel angry that someone had come and destroyed my shop."
Among other sentences imposed, Foord was given two 30 month jail terms for two further counts of burglary, which he pleaded guilty to on 26 March. Those sentences will run concurrently.