Kent Downs beauty spot power lines buried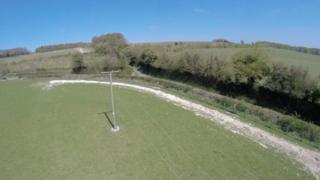 Overhead power lines have been removed from a 2.8 mile (4.5km) stretch of protected countryside.
UK Power Networks said the £482,000 scheme would improve the nationally-important Kent Downs Area of Outstanding Natural Beauty (AONB).
Engineers have replaced electricity lines and 43 wooden poles near Canterbury with underground cables.
Project officer Shaun Barrell said that area was "relatively open" and the power lines were a significant feature.
Tim Own, from the AONB, said removing the structures at the foot of Chartham Downs had instantly had a positive impact on the countryside, which was well-used by walkers and horse riders.
The Kent Downs AONB covers countryside from the white cliffs at Dover and Folkestone to the Surrey border.