French have lost control of Channel Tunnel, says MP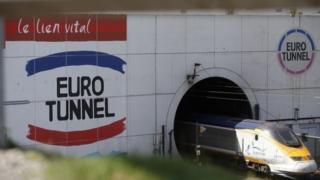 The death of a migrant in the Channel Tunnel was a "consequence of the loss of control" by the French authorities, a Conservative MP has claimed.
Damian Collins, MP for Folkestone and Hythe, said migrants could "walk in freely" to the terminal at Coquelles.
He said: "If it was an airport it would be inconceivable that people would be breaking into high security areas."
Eric Moonman, a security expert, said the French authorities were "learning and improving".
Mr Collins, a former immigration minister, said: "It's not just migrants, striking ferry workers were able to break in at will to the Channel Tunnel site. In my view security is far too lax.
"The migrants noticed what the strikers could do and are acting accordingly.
"This is principally the responsibility of the French authorities.
"We have offered assistance, but they have to sort this out themselves."
'Terrorist action'
Mr Moonman said the French police had been "totally unaware of how the situation was going to develop".
He said some of the 3,000 migrants waiting to cross the Channel were a security risk "in their own right" with some "prepared for terrorist action".
"The idea that they're a whole series of individual people is nonsense and the French authorities did not understand the leadership of the 3,000," Mr Moonman said.
"I think this is going to get much worse before we can solve it."
"The French authorities are now doing things they should have done a few weeks ago.
"They are learning and improving."
The French authorities have yet to comment.
Eurotunnel said services had returned to normal after Tuesday's disruption following the death of the migrant, who sustained injuries believed to have been caused in an attempt to jump on to the shuttle.
Operation Stack remains in force on the M20 because of "ongoing issues" at Calais, a Kent Police spokesman said.