'FGM risk' girl returns from Sudan after Kent legal bid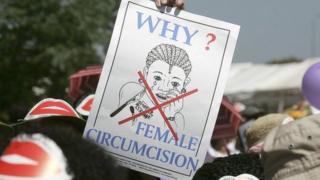 A teenage girl thought to be at risk of female genital mutilation (FGM) has returned to England from Sudan after Kent social services took legal action.
Mr Justice Baker had ordered the girl's mother to return her to Britain after making an FGM protection order in the High Court's family division.
In a written update, he said on Monday the 13-year-old had returned.
The court heard the girl's mother had gone to Sudan and left her daughter, who cannot be named, with relatives.
In a hearing earlier this month, the court heard the girl's parents had separated and the girl had been left in Sudan by her mother without her father's permission.
The woman described the girl's father as "manipulative" and "violent" and said she was "fleeing".
But barrister Zimran Samuel, representing Kent County Council said the woman's family considered FGM to be acceptable and said social workers regarded the matter as urgent.
He said women in the mother's family had been subjected to FGM.
Diane McBrinn, for the woman, said the mother denied her daughter was at risk of being subjected to FGM.
But she said her client would comply and take steps to get the girl back.
Legislation for making FGM orders came into force in July.
---
Female genital mutilation
Includes "the partial or total removal of the female external genitalia or other injury to the female genital organs for non-medical reasons"
Practised in 29 countries in Africa and some countries in Asia and the Middle East
An estimated 3 million girls and women worldwide are at risk each year
About 125 million victims estimated to be living with the consequences
It is commonly carried out on young girls, often between infancy and the age of 15
Often motivated by beliefs about what is considered proper sexual behaviour, to prepare a girl or woman for adulthood and marriage and to ensure "pure femininity"
Dangers include severe bleeding, problems urinating, infections, infertility and increased risk of newborn deaths in childbirth
In December 2012, the UN General Assembly approved a resolution calling for all member states to ban the practice
Source: World Health Organization
---