Action over fire on Dover-bound Channel ferry criticised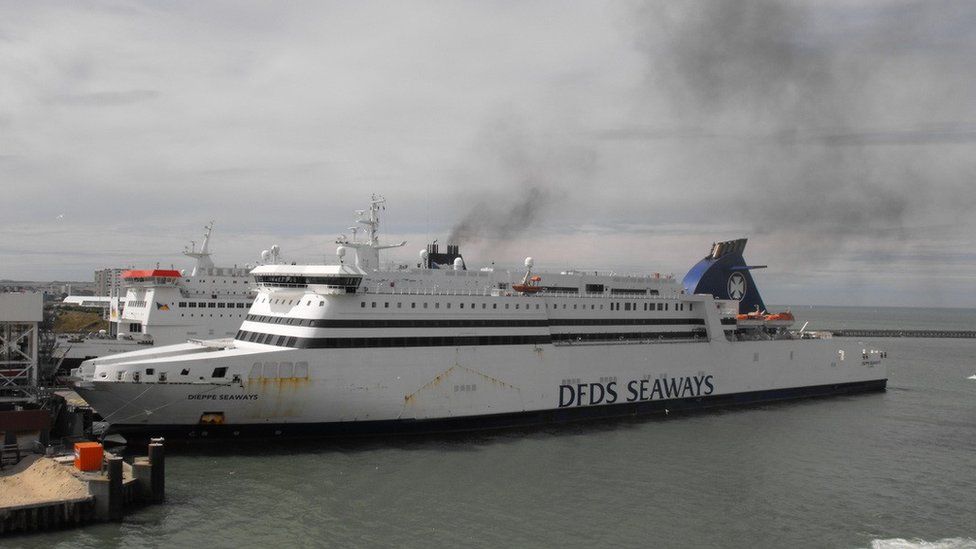 Action to put out a fire on board a cross-Channel ferry carrying 315 passengers was not fully co-ordinated, an accident report has said.
The Marine Accident Investigation Branch (MAIB) found shortcomings in how the blaze was dealt with on a DFDS Seaways ferry last year.
Kent Fire and Rescue Service said it accepts the report's recommendations.
DFDS Seaways said "passenger and crew safety is the first priority" and the ferry company would study the report carefully.
Six crew members and four firefighters suffered burns, three of which were serious on 1 May 2014, the report said.
It said the fire broke out in the furnace of the port thermal oil heater as the Dieppe Seaways approached Dover.
Staff on the ship tried to put out the blaze based on a similar alert in 2009.
But the burner unit opened, the blaze spread beyond the furnace and the crew did not recognise this, the report said.
Investigators said: "An initial entry into the port boiler room was attempted, which resulted in a backdraught with an accompanying fireball that caused a number of casualties and necessitated the shutdown of the compartment."
"There was no formal acceptance of responsibility for the firefighting effort by either the ship's staff of the KFRS firefighters," investigators found.
"Each organisation felt that the other had a sufficient measure of control."
Paul Flaherty, assistant director of resilience and development at the Kent Fire and Rescue Service, said: "KFRS accepts recommendation of the report."
He said the fire service had carried out its own investigation and fire crews were now receiving additional training.
Planning has improved and the fire service is training with DFDS crews, he said.
Carsten Jensen, senior vice president and head of DFDS in the UK, said:, "We have just received the full report from the MAIB, which we will study carefully to see what lessons can be learnt from this incident."
Related Internet Links
The BBC is not responsible for the content of external sites.