Ashford Council agrees to take 250 refugees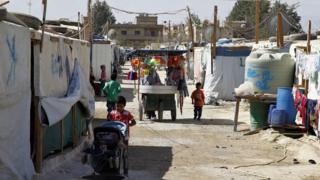 A Kent council has agreed to take in 250 refugees from Syria over the next five years.
Ashford council's cabinet met earlier to consider the plan. The first refugees could arrive in the borough by Christmas.
The government has pledged to bring 20,000 refugees to the UK by 2020.
Council leader Gerry Clarkson said the refugees would be flown to the UK through the government scheme which takes people from camps around Syria.
He said the refugees would be family units that had been vetted by the government.
They would be placed in private rented accommodation, costs would be funded by government, and all the refugees will be given visas so they are entitled to benefits and able to work, he added.
"We've got about 5,000 council properties here that we have people in and we have a council waiting list. Clearly we do not want to compromise that in any way, shape or form."
He said the families would be spread across the borough.
He added: "We're one of the richest countries in the world and these people are in a desperate plight with something like... 3.8 million out there in those camps.
"These people are suffering and undergoing a situation which is difficult to imagine and it's not at the cost of people in Ashford."