Herne Bay woolly post box covers 'spread Christmas cheer'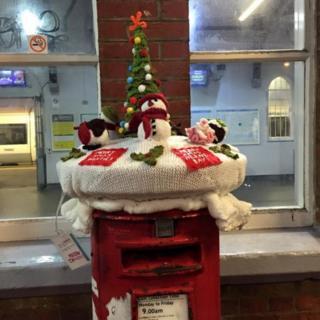 Festive woollen post box covers that appeared in a seaside town are the work of a Kent knitting circle, it has been revealed.
Sara Worley from Maidstone and fellow knitters from the Herne Bay Cosy Crew created ten decorative covers to "spread the Christmas cheer".
The team of seven started work on the covers in October before "yarn-bombing" the town.
"We thought this would put a lot of smiles on lots of faces," she said.
The knitting group is inviting the public to take selfies in front of the post boxes and add them to their Facebook page.
"The Royal Mail have been very supportive," she added.
Ms Worley, 56, who was born in Herne Bay, said she started knitting as a child but took it up again three years ago.
She said each cover took about three hours a day for a month to create and uses about 200g of wool.
The group's plans had now turned to a project for the Herne Bay Pier for next summer.
"We haven't decided what yet," she said.