Thousands support Folkestone campaign to save Leas Pavilion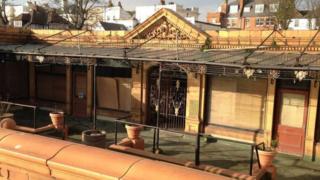 More than 31,000 people have signed a petition in support of a campaign to preserve a Grade II-listed building.
Folkestone's Leas Pavilion opened in 1902 and was mostly used as a theatre until 1984, and a pub and entertainment venue until its closure in 2007.
The Edwardian building is now owned by developers Churchgate who plan to build 68 flats to both sides of the existing site with a span over the top.
It said the site would be "developed sympathetically" around the pavilion.
The condition of the building, which is also known as the Leas Club, has deteriorated since its closure.
The Friends of the Leas Pavilion (FOLP) initially launched the petition in an attempt to persuade Shepway District Council to register the site as an asset of community value amid concern that it could fall further into disrepair.
However, this was rejected because there was "insufficient evidence to show the land had previously been used for the purposes of furthering the social well-being or social interest of the local community" given its closure.
Liz Mulqueen, chairman of the campaign group, said the petition had continued to grow in support of preserving the building because of its architectural and historical significance.
Churchgate had proposed turning the building into a luxury health club, but Ms Mulqueen said it now "appeared to be open to our suggestion that should they grant us a 100-year lease then we, as a not-for-profit organisation, would be able to apply for funding that they would not be able to".
Ms Mulqueen said campaigners had already been approached by a film production company to use it for studios, which would in turn promote Folkestone.
"Churchgate loved that idea... it's the most viable plan," she added.
In a statement, Shepway District Council said it was very keen to see the site developed and the Leas Pavilion renovated, and was monitoring its condition.