Margate's Dreamland 'nearly did not open'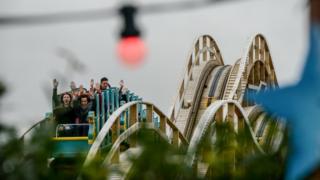 An email has shown funders had "significant concerns" over Margate's Dreamland months before it opened and warned they may not be able to proceed.
The Heritage Lottery Fund (HLF) told Thanet council they had been "shut out" and they could not proceed with the lease without a full report.
Both the council and the HLF have said any concerns were quickly resolved.
But Margate resident Louise Oldfield who obtained the email said to hear of such grave concerns was "worrying".
The email to the council, sent just more than two months before the park opened, raised concerns that the appointment of Sands Heritage Ltd as operator may not have been open and fair.
It told the council it could not proceed with considering the proposed lease for the operation of the site without a full report on the procurement.
Ms Oldfield said it was worrying to hear of such concerns so close to the park's opening date.
She said the restoration and opening of Dreamland had been a decade-long campaign and a £30m "massive", public-funded project.
"I think that the public now just need to see that the right thing is being done," she added.
Councillor Iris Johnson who was Thanet's leader at the time said it "wasn't the council's issue".
She said: "Our officers have very clear records of when they contacted the HLF and some people in the HLF may not have known how strong that contact was."
She said the project was not at risk.
The HLF said questions were quickly answered and complex projects like Dreamland could often present challenges but it continued to offer Dreamland and the council its full support.
Thanet council said it understood it was complying with requirements, HLF was a major investor and the authority was keen to address any concerns which were quickly resolved.
Sands Heritage said it won the tender process through merit after a thorough and robust application and pitch.
The operator said it was confident in its management of the business and its plans for 2016.