Janice Atkinson: MEP to face no action over receipt claim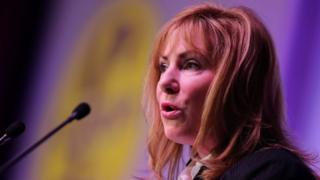 South East MEP Janice Atkinson will face no criminal action over allegations that a member of her staff tried to arrange a false meal receipt.
The now Independent MEP was replaced as the UKIP general election candidate for Folkestone and Hythe after the claims were published in The Sun newspaper.
Ms Atkinson and her assistant Christine Hewitt were expelled from the party following a disciplinary hearing,
She said she was "delighted" to have been cleared by Kent Police.
"It has been a truly terrible time and I have learnt a major lesson about the value of integrity in my working relationships," she said.
A spokesman for Kent Police said: "Following an allegation of fraud, a woman who was interviewed has been informed that there will be no further action against her.
"Inquiries in the allegation continue."
In March, The Sun published a secret recording which claimed to show Ms Hewitt asking the manager of a restaurant in Margate for an invoice for a higher sum than the bill she had received.