Rise in illegal entry arrests in Kent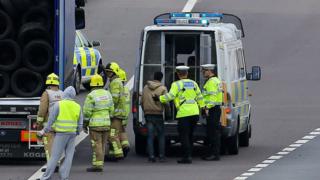 The number of people arrested on suspicion of entering the UK illegally has risen by 50% in a two-year period.
Some 810 were held by Kent Police last year, up from 530 in 2013, a BBC Freedom of Information request showed.
Two-fifths of the people arrested were from Sudan and Eritrea, 11% from Syria and 8% from Iraq and 8% from Iran.
The figures also revealed that 271 people were held for assisting illegal entry into the UK, up from 160 from 2013.
French authorities have been working to remove make shift shelters from Calais migrant camp over the past few weeks.
'Tackle criminal gangs'
Those living in the camp, known as the "Jungle" mainly from the Middle East, Afghanistan and Africa, hope to cross the Channel to the UK, often using people traffickers to try to enter illegally.
The British government also recently announced £17m would be spent helping the French authorities in Calais and Dunkirk.
The FoI shows 810 people were arrested for entering the UK in 2015, 629 were held in 2014 and 530 in 2013.
A Home Office spokesman said its immigration teams worked closely with police forces to "tackle the criminal gangs that try to smuggle migrants" and locate people who were here illegally.
He continued: "We also continue to strengthen border security to stop illegal migrants entering the UK in the first place - last year we foiled nearly 40,000 attempts to cross the Channel illegally.
"The Home Office also works closely with law enforcement partners in Europe, using the latest technology and intelligence leads to tackle the criminals engaged in people smuggling."