Labour suspends activist over alleged anti-Semitic comments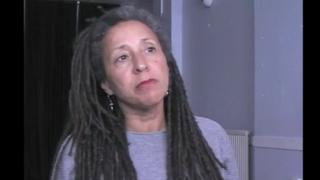 A senior Labour activist has been suspended from the party over alleged anti-Semitic comments on Facebook.
Jackie Walker, a vice chair in the Momentum movement, wrote about "the African holocaust" and Jews as "chief financiers of the sugar and slave trade".
The Labour Party said: "Jacqueline Walker has been suspended by the Labour Party today pending an investigation."
Ms Walker said she was of Jewish descent and an active anti-racist.
'Defended minorities'
In a statement, she said: "I have been suspended from the Labour Party for alleged anti-Semitic comments. I have been an active anti-racist trainer and campaigner for years, often in all white communities and in the most vulnerable situations.
"I have been spat at and beaten by racists. I have marched against the fascists, defended minorities, am of Jewish decent as is my partner. If they can do this to me they can do it to anyone."
She is vice-chair of Momentum's National Steering Committee and also vice-chair of South Thanet Labour party in Kent.
A spokesperson for Momentum said it "unambiguously condemns anti-semitism and welcomes Jeremy Corbyn's launch of an expert-led inquiry", adding "we will look into the claims made in this article".
Ms Walker's comments were posted in February.
The Jewish Chronicle reported that it alerted Labour to her comments and said a new poll suggested support for Labour among British Jews had fallen to 8.5%.
Labour leader Jeremy Corbyn has set up an independent inquiry into accusations of anti-Semitism and racism in the party.
Last week, former London mayor Ken Livingstone was suspended from the party for making comments about Hitler while speaking in defence of MP Naz Shah, who had earlier been suspended over accusations she was anti-Semitic.