Hidden timbers from 'defining' British warship go on show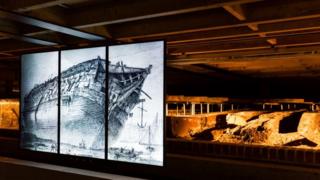 The remains of an 18th Century warship that "defined this course of British history" are to go on display for the first time.
Timbers from HMS Namur, which was built in 1756, had lain hidden beneath the Wheelwright's Shop at Chatham Historic Dockyard for more than 160 years.
They were first discovered in 1995 but were not identified as belonging to the vessel until 2012.
HMS Namur's remains are the centrepiece of a new exhibition at the dockyard.
The ship, which served through to the aftermath of Trafalgar, saw 47 years of service before being brought back to the dockyard and recycled under the floor.
Naval archaeologists confirmed the timbers were from the fighting ship when they investigated the shipwrights' and carpenters' marks.
Historian Dan Snow described it as "the ship that defined this course of British History".
"Her remains enable us to better understand the shipbuilding ingenuity at Chatham which was crucial in developing British naval dominance, which in turn helped extend Britain's influence around the world," he said.
The £9m Command of the Oceans exhibition at Chatham also features objects from the Invincible, an 18th Century French warship that was captured by the Royal Navy in 1747.