Girl, 10, 'could need kidney transplant' after Egypt holiday E. coli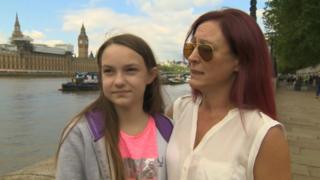 A 10-year-old girl could have to undergo a kidney transplant after contracting E. coli on a holiday in Egypt, her family has said.
Emily Bridges from Queenborough, Kent, picked up the bug while on a trip to the Red Sea resort of Hurghada in May.
She spent a week on life support and is now dependent on immune suppressant drugs and 12 hours of dialysis a day.
Tour operator Thomson said the family had not contacted them but it closely monitored hygiene at its resorts.
Emily's symptoms were initially diagnosed in Egypt as an upset stomach, but 24 hours after landing in the UK her organs began to shut down.
Her mother, Rachel, said: "Her kidneys stopped working. Her heart stopped working. They said it was like having a heart attack for five days."
She said they were hoping Emily's kidneys would recover from the damage but the "worst case scenario" was dialysis at home and "a transplant further down the line".
The family said they were seeking legal advice about making a complaint.
In a statement, Thomson said it was sorry to hear of Miss Bridge's situation, adding: "Nothing was reported to our team in resort or since the family has returned home.
"We're not in a position to comment further, until the family have contacted us and we have had the opportunity to carry out an investigation."
---
What is E. coli?
Escherichia coli are bacteria that live in the intestines of animals, including humans
An infection can be picked up by eating contaminated food, drinking, swimming or playing in contaminated water, touching infected animals, and contact with people who have the illness
Symptoms include severe diarrhoea, abdominal pain and vomiting
A small number of people go on to develop a serious condition called haemolytic uraemic syndrome (HUS) which can lead to kidney failure and death, although this is rare.
---