Kent ME sufferer Jessica Taylor determined to walk for wedding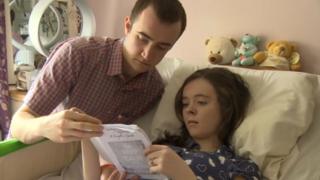 A woman is planning to walk down the aisle on her wedding day despite being bed-ridden for almost half her life.
Jessica Taylor suffers debilitating fatigue and painful muscles caused by Chronic Fatigue Syndrome, also known as Myalgic Encephalomyelitis (ME).
The 25-year-old, of Cliffe Woods, Kent, met Samuel Bearman, 24, through friends and they plan to marry next year.
She is working with a physiotherapist in her bid to walk again, and said the wedding would be a "dream come true".
"I've tried to defy doctors. They've given me boundaries and I've tried to extend those boundaries as much as possible," she said.
Mr Bearman said his fiancee was much more than just "someone stuck in a bed".
Ms Taylor added: "There's still a life you can live and it's not wasted years."
Two years ago, with her sister Ruby, Ms Taylor started a charity called Share a Star, which supports sick children who spend their lives indoors.
Last month she was invited to the Houses of Parliament to talk to her local MP, Kelly Tolhurst, about its work.