Extra French security checks delay Dover ferry passengers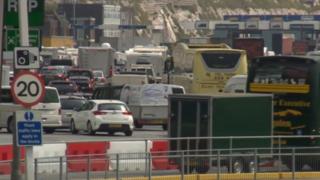 Thousands of Cross-Channel ferry passengers are facing long delays at the Port of Dover amid heightened French security checks.
Some people have been waiting up to three hours to clear passport controls, with freight traffic building up on roads approaching the Kent port.
A Port of Dover spokesman advised customers to allow plenty of time for their journey.
France has been under a state of emergency since last November.
The country's National Assembly voted to extend the measure by six months in response to last week's attack in Nice in which 84 people were killed and scores injured when a lorry was driven into crowds.
The state of emergency was brought in after terror attacks in Paris on 13 November that left 130 people dead.
Latest updates on the Port of Dover and other Kent stories
A P&O Ferries spokesperson said: "We are doing everything we can to allow passengers to begin their journey as quickly as possible.
"If passengers miss their allocated ferry they will be able to board the next available ferry at no additional cost."
Disgruntled travellers have taken to Twitter to express their dismay.
John Hippisley said "terrible PR for the French Authorities I appreciate the need to protect the border but clearly all tourist not terrorists".
The extra security checks have been causing delays since the early hours.
DFDS Seaways advised customers on Twitter at 13:00 BST that they should "allow 180 minutes to complete the check-in process... the port is very busy".