Bryan Adams helps raise £10,000 for cancer girl's treatment fund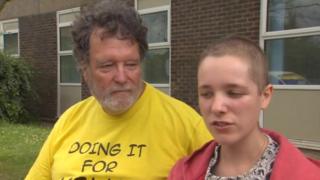 Singer Bryan Adams has helped raise £10,000 for a teenager with a rare form of cancer after a collection bucket was passed round the audience at a concert.
Kelly Turner, 16, from Dover, Kent was diagnosed with desmoplastic small round cell tumour in 2015 and has been told she has two years to live.
Her family is trying to raise £1m to pay for specialist treatment in the US.
The cash was raised at Adams' concert at Kent County Cricket Club's ground in Canterbury on Saturday.
'Proud of audience'
Canadian star Adams posted on his Facebook page: "People power!
"Last night we did something different at the Canterbury concert.
"We passed a bin around between the audience and the band, and spontaneously raised around £10,000 for 16-year-old Kelly Turner who is suffering from a rare form of cancer.
"The bin came back twice!
"I'm so proud of the audience tonight."
Kelly has been receiving chemotherapy at the the Royal Marsden Hospital in Sutton, south London but her family wants to take her to New York for surgery at the Memorial Sloan Kettering Cancer Centre.
So far they have raised £102,309 of their £1,000,000 target on JustGiving.
Last month a charity box set up to help raise money was stolen from a newsagent's in Hythe, Kent.
An anonymous donor who regularly uses the shop later gave £100 towards the appeal and the shop's owner Mikin Patel said he would match the amount.