No findings over Gillingham mother and child deaths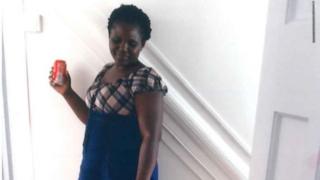 A mother and toddler who were found dead in their flat were waiting to hear if their application to stay in the UK was successful, an inquest has heard.
Lillian Oluk , 36, and two-year-old Lynne Elizabeth Mutumba were found at their home in Gillingham, Kent, on 14 March.
Assistant coroner for mid-Kent and Medway Kate Thomas recorded an open verdict into the deaths.
She said there was insufficient evidence to make any findings.
The inquest heard Ms Oluk's student visa had expired and was applying for permission to remain in the UK.
'Loved to be hugged'
The coroner said Ms Oluk had arrived in the country in 2009 after leaving Uganda to escape the stigma of being HIV positive.
As she had outstayed her visa, Ms Oluk was unable to work while her application to remain was being processed, the inquest at the Old Town Hall in Gravesend heard.
Without a source of income, she and her daughter were forced to rely on the support of friends and family.
She was referred to social services and in December she moved to Gillingham.
The inquest was told she was at potential risk of being deported so she renewed her application on human rights grounds.
Ms Oluk's sister, Pamela Angole, said: "Lynne loved people and just loved to be hugged and held."
She said she blamed her sister's death on "bad relationships" and "not having the right people around".
Police said they had found Ms Oluk's flat to be spotlessly clean, with only two fingerprints, and the bathroom and fridge were empty.
Post-mortem examinations were inconclusive.