Suspected migrants land on Walmer beach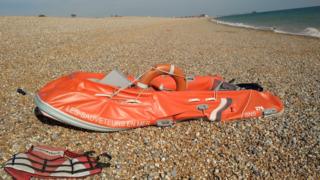 Three suspected migrants have been arrested after a dinghy was spotted on a beach in Kent.
The three men were detained in Kingsdown Road in Deal at about 09:15 BST on Saturday, police said.
John Varnham, who saw the boat, said: "The dinghy was landed on the beach nearby in Walmer with life jackets and lifebelts thrown across the beach."
The men have been handed over to Home Office immigration enforcement officers, police said.
Mr Varnham who was on the beach walking his dog, said: "We saw along the beach at Walmer a bright orange dinghy washed up on the shore, and alongside it there were lifebelts.
"The dinghy would have been cramped for three people and had an outboard motor - it was about six to eight feet long.
"There was a torch, a drinks bottle and a petrol can."