Mummified baby found in Maidstone Museum's 'hawk'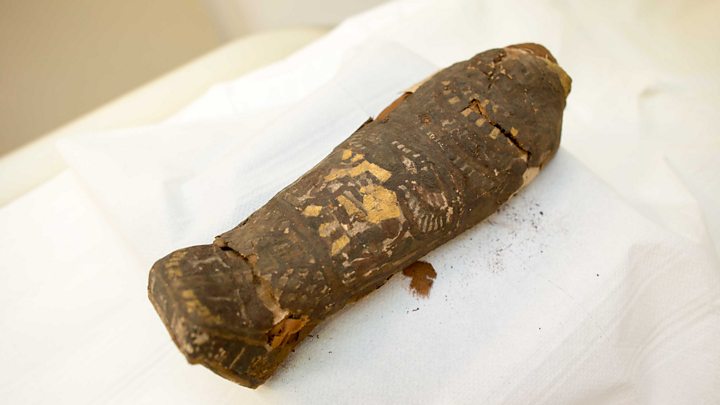 A mummified baby has been discovered by a museum after it scanned an object thought to have been a hawk.
The Maidstone Museum's artefact was labelled "a mummified hawk" but scans have shown it to in fact be a miscarried 20-week-old foetus.
The museum said the mummy from Egypt is thought to be one of the youngest preserved humans in the world.
The baby was found after a CT scan at the Kent Institute of Medical Surgery Hospital.
For more archaeology stories follow our Pinterest board
Samantha Harris, collections manager at Maidstone Museum, said: "We analysed a piece that had initially been classified as 'a mummified hawk with linen and cartonnage, Ptolemaic period (305 BC to 30 BC)'.
"The remains were in fact revealed to be the mummy of a baby.
"Initial reviews identified the baby to be a miscarried 20-week gestation foetus which, if found to be the case, will be one of the youngest human mummies recorded anywhere in the world."
She said without the use of technology, identifying and learning about the baby mummy would have been impossible without causing irreversible damage by unwrapping it.