Kendall House: Church payments to drugged girls an 'insult'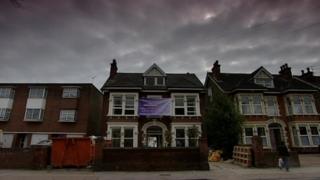 Payments to ex-residents of a church-run children's home where girls were routinely drugged, locked up and abused have been described as an "insult".
Hundreds of girls were sent to the Church of England Kendall House in Gravesend from the 1960s until it closed in 1986.
About 24 former residents have received payments following a review.
The Church of England has apologised. None of the perpetrators of the abuse are still alive.
A review of the abuse at the home was launched by the Bishop of Rochester, the Rt Rev James Langstaff, earlier this year and found it had "broken lives".
The review was chaired by Prof Sue Proctor, who led the inquiry into Jimmy Savile's abuse at Leeds Teaching Hospitals. It found girls had been heavily sedated and placed in straitjackets.
The dioceses of Rochester and Canterbury said the payments acknowledged the "courage" of women who had shared their stories.
Teresa Cooper, 49, who was abused and drugged at the home has fought a long campaign to highlight the abuse.
She said the £1,000 payment she received failed to atone for the illnesses she had suffered since being at the home.
She said: "They made my life a walking, living, breathing hell. We were pumped full of drugs over and over again by force."
She said she had been left suicidal and unemployable, and lives in constant pain.
Ms Cooper said she felt the payments were an "insult", adding: "I think the Church is doing it to pacify the women."
A spokeswoman for the dioceses of Rochester and Canterbury said payments had been made to all former residents who took part in the review.
She said: "These payments are an expression of our gratitude to the women who have had the courage to share their stories, and an acknowledgement of the pain of revisiting their trauma."