Legion d'Honneur for seven Normandy veterans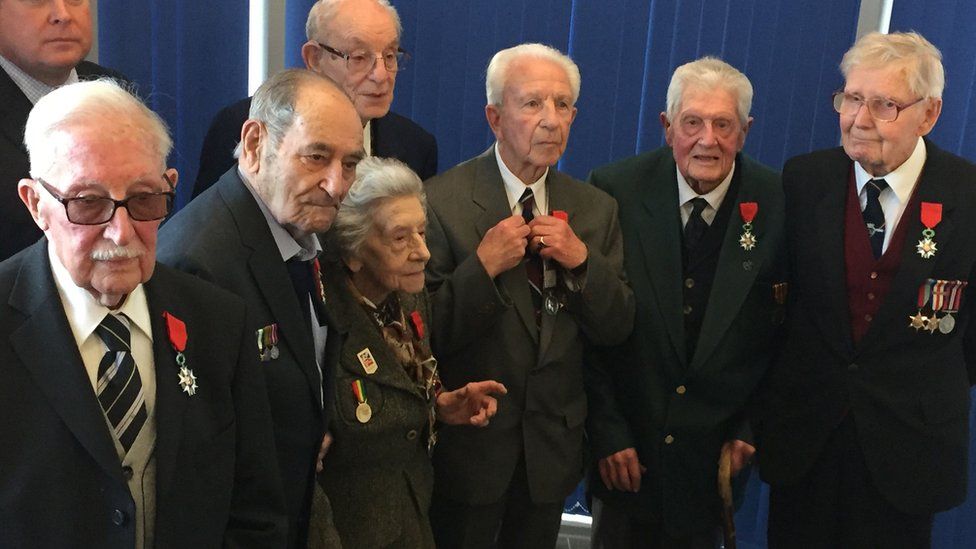 Seven veterans, including a former nurse, have received France's top honour for their role in World War Two.
The group, who are all from Kent and aged in their 90s, were given Legion d'Honneur medals during a ceremony at the Battle of Britain Memorial in Capel le Ferne, near Folkestone.
Joan Price was a sister in the Queen Alexandra's Imperial Military Nursing Service (QAIMNS).
She and six men from across the forces were involved in the D-Day operation.
Gordon Holland, 93, a platoon sergeant with the Royal Army Service Corps who commanded 30 men, reflected on his lost young comrades.
He said: "I think of myself, nearly at the age of 94, and I've had a long life. And then I think about the lives that were cut off."
Edward Snow, 91, a steward in the Merchant Navy, said: "It's not how I want to be remembered really, bringing the dead back to Plymouth, Portsmouth and Southampton.
"But it was all for a good cause."
William Jacobs, 93 an able seaman in the Royal Navy, who was involved in patrols off Sword beach, said the moment was "the highlight of my life".
Kenneth Drury, a Royal Air Force Pilot officer, retired Squadron leader and navigator on Lancaster bombers
William Adams, and able seaman in the Royal Navy for HMS Pelican who conducted anti-submarine operations
Gordon Holland, a Platoon Sergeant in the Royal Army Service Corps commanded 30 men
David Norris, a greaser in the Merchant Navy
French President Francois Hollande announced on the 70th anniversary of D-Day in June 2014 that all British veterans involved in France's liberation during WW2 would get the honour.
The D-Day operation was described by prime minister Winston Churchill as "undoubtedly the most complicated and difficult that has ever taken place".
Some 156,000 Allied troops landed on five invasion beaches on 6 June 1944, sparking an 80-day campaign to liberate Normandy.
There were three million troops involved and 250,000 lives lost.
Related Internet Links
The BBC is not responsible for the content of external sites.