Visa 'box-ticks' force Catholic college to move from Margate to Rome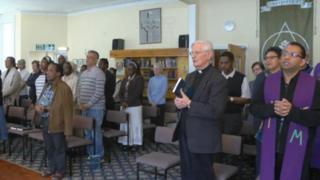 A Catholic college is relocating to Rome because of the Home Office's "box-ticking" rules on overseas students, a former Kent MP has claimed.
Thousands of students, including nuns and priests, have trained at Margate's Institute of St Anselm, but in recent years over 10% have been refused visas.
The Home Office said its license to sponsor international students would be revoked due to its visa refusal rate.
Ex-MP Ann Widdecombe said the "nature of religious life" was being ignored.
"I think the Home Office should be more flexible, but above all it should be more knowledgeable.
"It clearly doesn't understand the constraints of religious life.
"They [the Home Office] have boxes and they have ticks, and they have inflexibility, and it never appears to occur to them that maybe some cases have to be treated differently from some others," the former Maidstone MP and Christian commentator said.
Ms Widdecombe, who was also a former home office minister and shadow home secretary, added: "It's a model of probity. Where's the Home Office's problem?"
The world-renowned college is relocating to Rome in the summer.
Father Len Kofler, its director and founder, said the college was told by the Home Office in January that it would no longer accept visa applications from overseas students.
It was also told it was ''considered a threat to immigration because more than 10% of students had been refused a visa".
Father Kofler said: "I didn't see any future - 85% of our participants come from abroad and it would be financial disaster to carry on here."
Home office officials visited the college last October before making a final decision.
In a statement, it said: "Educational institutions that benefit from the immigration system must ensure they have robust compliance systems in place or risk losing their privilege to sponsor students.
"All institutions holding a Tier 4 sponsor licence must pass an annual assessment in order to retain the ability to recruit international students."