Horsmonden crash lorry hits Grade II listed building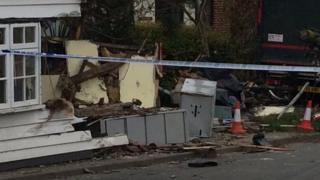 A John Lewis lorry has crashed into a Grade II listed building following a collision with another vehicle in Kent.
The property on Goudhurst Road, Horsmonden, is used by estate agents Country Cottages and was badly damaged.
It is understood both drivers suffered minor injuries in the crash, which happened shortly after 08:30 GMT, and also brought down a telegraph pole.
The road was closed at the junction with Maidstone Road for seven hours for damage to the building to be assessed.
Richard Barker, who runs the local parish magazine for Horsmonden, said he was amazed nobody had been more seriously injured.
"During the four years that I've been living here there have been several accidents on this crossroads.
"The parish council have been concerned about it and this just highlights the danger.
"Something needs to be done, and I think it's the feeling of the village," he said.