Baby boom amongst maternity staff at Darent Valley Hospital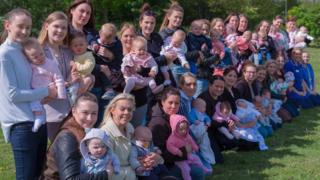 Staff at a Kent maternity unit are showing they "practise what they preach" after 25 of them gave birth to 26 babies in the space of 14 months.
Darent Valley Hospital has released pictures ahead of the International Day of the Midwife on Friday.
The hospital said many of the women had care from community and hospital midwives and its own obstetric team.
The NHS trust said it was testament to the trust staff had in their colleagues and friends to provide the best care.
Deborah McAllion, head of midwifery at Dartford and Gravesham NHS Trust, said: "This is a great example that midwives will always practise what they preach."
"We are delighted that we have got so many proud mums/midwives/support workers and babies to show," she added.
"Congratulations to all families. Friends, colleagues and managers look forward to seeing you all back at work very soon."
Sixteen girls and 10 boys were born between February 2016 and April 2017, and two more midwives are expecting their babies in the summer.
A few mothers were unable to give birth at the hospital as they were "out of the area" or they chose home births due to being "low risk", the trust said.