Marc Dunk cyclist death: Family wait six years for full report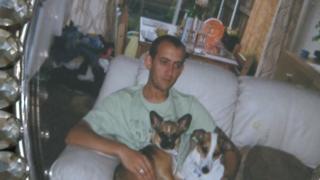 A judge has told a police force it must release a full report into a failed investigation into a cyclist's death after withholding selected pages.
Marc Dunk, 28, was killed when he was hit by a lorry while cycling to work in Thanet in February 2010.
After a campaign by his family, a review in 2015 found Kent Police had failed to fully investigate the crash.
Now the family has won the right to see the full report of the review after 13 pages were held back.
Mr Dunk's mother, Christine Elson, said: "It has taken six years in all to get this.
"All I wanted to know was how my son died and now we find the investigation was totally flawed."
Family campaign
Following Mr Dunk's death, a coroner recorded a verdict of accidental death after an initial police investigation concluded he rode across the path of the lorry.
But following a family campaign, Kent Police carried out a serious case review in 2015 which found there were "missed opportunities", including a failure to examine the driver's "consumption of codeine and its effects on him".
However, some of the report was redacted by Kent Police and never released to the family.
After several failed attempts to get the driver's blood test results, Mrs Dunk and her husband Tony brought the case to a tribunal.
Now a judge has ruled the full report should be released.
The pages held back described how files had been lost, breaching "the duty of the police to record, retain and if necessary reveal matter".
Kent Police said the force accepted parts of the serious case review did not need to be redacted.
A statement said: "These parts included findings that established that, while officers could have done more in their enquiries, it was unlikely this would have changed the outcome of the investigation."
Mrs Elson said the family still had no explanation or apology from Kent Police.
A spokesman said the force would not be commenting further as a complaint relating to aspects of the investigation had been made and was being assessed.