Consultation on Medway children's centres axing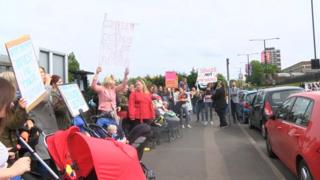 Plans by a Conservative council to axe all 19 of its children's centres are to go out to a public consultation.
Medway Council is proposing the centres are replaced by four "super hubs".
The authority said the changes were needed as a result of changes in government funding and a reduced council budget.
The move comes after the council agreed a £60,000 cut in funding for children's centres to help pay for the Battle of Medway commemorations.
Scores of protesters gathered outside the council's offices on Tuesday while the cabinet meeting was taking place to voice their concerns over the closure of the centres.
Vicki Sigston said: "They were such a lifeline to me when I had my first son. They meant we could make friends and get support."
'Service must transform'
Councillor Andrew Mackness, the Conservative member for children's services, said: "With the amount of funding we have available it's very clear that we will not be able to provide universal services through 19 centres.
"The service must transform if we are to continue to deliver quality early help to families and we need to think of innovative ways to do that."
A six-week public consultation will begin "shortly", the council said.
Councillor Adam Price, Labour spokesman for children's services, said: "These proposals would represent the end of any sort of accessible, universal early years service in Medway.
"We are supposed to believe that half as many staff operating from four mega hubs will know the families they are responsible for better than they do under the current model."
In the council's budget the authority said £160,000 funding for the Battle of Medway commemorations was to be paid for from an additional £100,000 income from crematoriums and £60,000 from cuts to children's centres.
There will be 10 days of events in June to mark the 350th anniversary of the battle when Dutch ships sailed up the River Medway and attacked the English fleet.