Apology over Natasha Sadler-Ellis stab murder jail terms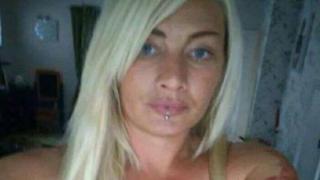 The family of a woman who was stabbed to death have received an apology from the attorney general for the way the case was handled.
Jeremy Wright said he was "deeply troubled" over the sentencing of those behind Natasha Sadler-Ellis's death and had raised concerns with the CPS.
Foster Christian, 54, from Canterbury, was jailed for life for murder.
Ms Sadler-Ellis's family wanted to appeal over terms handed to two accomplices but missed the deadline.
'Poor service'
In a letter, Mr Wright said there appeared to have been a series of delays in referring the sentences which meant by the time his office received the request, the strict 28-day deadline had passed.
He apologised for "poor service", adding: "I am deeply troubled by what has happened in this case, and I have raised my concerns with the CPS."
Mr Wright said CPS officials were speaking to police to ensure such a situation could not happen again
And he said: "It does show how seriously the CPS is treating what has occurred."
Ms Sadler's mother June said she now wanted a judicial review.
She said: "It's just a travesty of justice. It's shocking, absolutely shocking. Somebody has to be made accountable for this. Somebody has to be. And we will fight on. We will. It won't deter us at all."
Christian was convicted of murdering Ms Sadler and Simon Gorecki, 47, following a housemates' row at a property they all shared in Dickens Avenue.
Samantha Groombridge, 19, of Athelstan Road, was jailed for 10 weeks after admitting assisting an offender.
Naomi Toro, 35, of Keyworth Mews, was jailed for 12 months for the same offence.