Widower appeals for last photo of wife at Sissinghurst Castle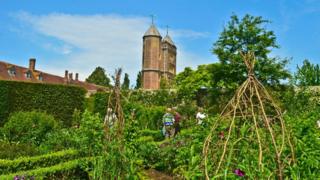 A widower is appealing to help find the stranger who took the last photo of him and his wife together before she died.
Alan Wright and his wife visited Sissinghurst Castle Garden in Cranbrook in September 2015.
He said a man they spoke to took their photo in the gardens. Mrs Wright, from Kent, died three months later.
A tweet by the National Trust, which runs the site, has been shared more than 600 times. A trust spokesman said it was a "heartbreaking story".
He added: "With luck the [person] who took the photograph at Sissinghurst Castle Garden will see Alan's letter and come forward."
Mr Wright wrote to the trust's magazine for help in tracking down the mystery photographer.
He wrote: "I have realised this would have been the last photo ever taken of her. I would dearly love to obtain a copy."