East Kent health protesters warn 'people will die' if services move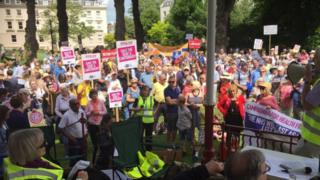 Hundreds of people have marched through the streets of Canterbury in protest at changes to hospital services.
From 19 June, patients who require urgent care for heart attacks, stroke and pneumonia will no longer be treated at Kent and Canterbury hospital.
East Kent Hospitals NHS Trust said the changes were being made for safety reasons as doctors were being moved.
But campaigner Roshna Ahmad warned: "People will die. It just cannot be allowed to happen."
The trust said Health Education England had asked it to move some junior doctors to hospitals in Margate and Ashford as there were not enough consultants in Canterbury to train and supervise them.
It added: "We have to make some temporary changes... because it would not be safe to run these services as we do now without these junior doctors."
It said it would only affect up to 50 of the 900 people who use the hospital in Canterbury every day.
Those patients would be taken directly by ambulance to hospital in Margate or Ashford, whichever is closer, it added.
It maintained that hospital services were safe and changes temporary "so we can continue to provide these services safely while we work to find a sustainable solution".
It added: "Any permanent changes would not be made without public consultation."
But during the march on Saturday, Ken Rogers, Chairman of Concern for Health in East Kent, said: "They are never going to get consultants to work there unless they bring the services back."