Rainham Splashes faces legal action over Halloween party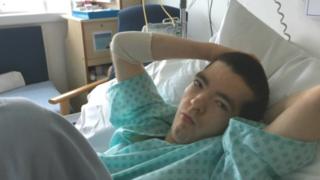 The family of a severely disabled man who contracted norovirus at his local swimming pool have instructed lawyers to launch an investigation.
Joseph Cook, 28, visited Splashes in Rainham the day before a Halloween party which saw red dye added to the water to turn it "blood red".
Along with one of his carers, he was one of about 80 people who fell ill.
Medway Council said it was "a rare and isolated incident" and guidelines from Public Health England had been adopted.
Mr Cook, who has epilepsy and communication difficulties and uses a wheelchair, suffered severe diarrhoea and vomiting after he visited the pool on 27 October.
After the themed party it emerged that scores of people had fallen ill, with an investigation by Public Health England linking the outbreak to a decision to lower chlorine levels in order for the red dye to work effectively.
Lawyers for Irwin Mitchell, which is acting for the family, said Mr Cook, from Gillingham, Kent, was in the pool for about 30 minutes with his carer and started to suffer severe gastric symptoms the following morning.
They have appealed for anyone else affected by the norovirus outbreak to come forward and assist with their investigations.
Tracey Cook said her son was still receiving specialist hospital treatment in London eight months later.
"For us as a family it's been devastating... all because they [Splashes] decided a Halloween party was more important than protecting their local community," she added.
She said her son would eventually need to have part of his bowel removed and a colostomy bag fitted if the illness continues.
A Medway Council spokesman said: "We would like to again apologise to those who felt unwell after visiting Splashes in October last year.
"The Public Health England investigation into the spread of norovirus has now closed and their recommendations have been adopted by the council.
"This was a rare and isolated incident for Medway."