Tory MP Craig Mackinlay denies election expenses fraud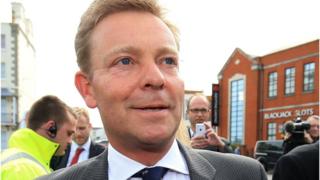 A Conservative MP has appeared in court to face fraud charges relating to his 2015 General Election expenses.
Craig Mackinlay, 50, is accused of inaccurately recording expenses during the campaign when he defeated former UKIP leader Nigel Farage.
The South Thanet MP's election agent, Nathan Gray, 28, and party activist Marion Little, 62, also face charges.
All three pleaded not guilty in court. If convicted, they could face up to a year in prison.
Deputy senior district judge Tan Ikram sent the case to Southwark Crown Court for trial.
Mr Mackinlay, who gave his address as Ramsgate in Kent, arrived at Westminster Magistrates' Court on Tuesday morning with his wife Kati.
Battlebus
In 2015, Mr Mackinlay beat Nigel Farage into second place in the East Kent constituency with a majority of almost 3,000.
Last month he increased that majority to 6,387, just one week after it was announced he would be prosecuted.
Before the election, Prime Minister Theresa May said the Conservative Party backed Mr Mackinlay.
The case centres on whether MPs' agents should have filed costs for battlebus visits to constituencies under local expenses.
Rules require parties to disclose national spending separately from funds used to promote individual candidates, and spending limits apply.
Mr Mackinlay, of St Georges Square in Pimlico, is charged under the Representation of the People Act 1983 with two counts of making a false election expenses declaration.
Nathan Gray faces one similar charge, and Marion Little faces charges of aiding and abetting them.
Ms Little of New Road, in Ware, Hertfordshire, and aiding and abetting them.