Strawberries worth £300 stolen from Kent farm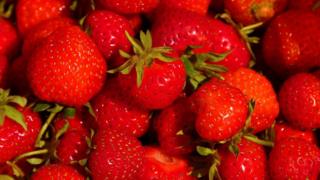 Strawberries worth hundreds of pounds have been stolen from a Kent farm.
About 100kgs (220lbs) of the fruit, worth about £300, were stolen from Hill Farm in Lenham Road, Ulcombe.
Kent Police initially said the fruit had been coated with a chemical that could cause "poisoning", but later said the it posed no risk to public health.
It is believed the same people have committed previous thefts from the farm, a police spokeswoman said.
The thieves got into the farm by cutting a fence, before a vehicle was loaded with the strawberries sometime between midnight on Friday and 10:00 BST on Monday, police said.
The force initially said the strawberries had been coated with a chemical which could cause "poisoning to the stomach".
A police spokeswoman then issued a statement saying: "It has come to my attention that the strawberries mentioned below do not pose a risk to public health."