Eli Cox death: Baby's injuries 'didn't look accidental'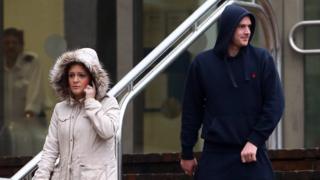 A doctor who led a hospital team trying to resuscitate a five-month-old baby told a court the explanations for his injuries did not make sense.
Eli Cox's mother Katherine Cox and her partner Danny Shepherd deny causing the boy's death in April last year.
Dr Janette Cansick told Maidstone Crown Court that the child was in full cardiac and respiratory arrest when admitted to Medway Maritime Hospital.
The consultant paediatrician said Eli's "pupils were fixed and dilated".
The jury heard how she "almost immediately tried to get some history" and most of the answers were coming from Mr Shepherd.
He told her that Eli had been unwell for two days with a vomiting bug and a possible slight temperature, and had woken up "whinging and crying".
Dr Cansick said Mr Shepherd told her he had taken Eli upstairs to his cot to try to get him to sleep but he "went blue, stopped breathing, had some brief twitching and then stopped moving".
She was asked by prosecutor Jennifer Knight: "Did you notice any signs or symptoms that were indications of what was going on in his brain?"
Dr Cansick replied: "His pupils were fixed and dilated. The history I obtained wasn't making sense to me in terms of the baby's presentation.
"This is highly suggestive of non-accidental injury."
Mother-of-nine Ms Cox, 33, and Mr Shepherd, 25, deny the charges against them.
The trial continues.