MP Helen Whately reveals she received death threat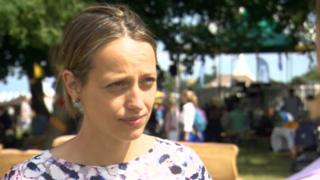 An MP has revealed how she received a death threat.
Helen Whately, the Conservative MP for Faversham and Mid Kent, said she had been targeted by campaigners angry an amendment to the Queen's Speech about public sector pay had not been passed.
It comes after she had to pull out of opening a school music festival after threats were posted on social media.
She said she had contacted police about some comments but did not elaborate or say when she received the threat.
Ms Whately said there had been "moments when I've felt under threat".
"I have had to complain to the police about some of the comments and particularly a death threat that I received," she told BBC South East.
"Because of what happened to Jo Cox you do have to take threats seriously," the MP, who was elected in the 2015 General Election, added.
Last Saturday she was made to pull out of opening a summer music festival at Sheldwich Primary School, in Faversham.
'Unhappiness and nastiness'
"I was asked not to go because there'd been some unpleasant comments on Facebook, and particularly threats that some people were going to come along and, I think, throw eggs, and they didn't want a disturbance at the school," she said.
"I went along afterwards rather than at the beginning."
She added she thought protesters were mainly angry about Conservative MPs voting in Parliament against Labour's amendment about the public sector pay cap in the Queen's Speech.
"I think that's what's been at the root about a lot of the unhappiness and nastiness over the last week or so."
In a statement, the head teacher of Sheldwich Primary School, Sarah Garrett, said: "The decision was taken to cancel the invitation to open the festival as the school would not wish to put any visitor at risk."
Kent Police said it "regularly offers safety and personal security advice, together with support as required" to local MPs.
"Security arrangements are taken very seriously and are kept under constant review to ensure the safety and protection of elected representatives.
"The force will continually assess and respond to any information or concern proportionately and appropriately," a statement said.