Eli Cox death: Mum says she was 'told to shake' baby son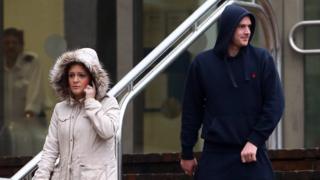 A mother accused of causing her five-month-old son's death says she was told to "hang him upside down and shake him", a court has heard.
Eli Cox's mother Katherine Cox, 33, and her partner Danny Shepherd, 25, deny causing the baby's death in April 2016.
Ms Cox told Katherine Jenkins she was given the advice after he turned blue and stopped breathing, the nurse told Maidstone Crown Court.
Ms Jenkins said Eli's injuries resembled those of a car crash victim.
Eli died at the family's Kent home after suffering extensive brain damage and multiple fractures.
More on this story and other news from Kent
Ms Jenkins cared for Eli while he was in the intensive care unit at Kings College Hospital in London, and was present when a consultant gave Ms Cox an update on her son's prognosis, the jury was told.
The staff nurse said the consultant asked Ms Cox what had caused Eli's injuries, which were compared with those sustained during a "car crash".
Ms Jenkins told the court: "Kathy [Cox] first said that she didn't know, then said she'd been downstairs, her partner took Eli to bed, then she heard a scream.
"She said she ran upstairs and was on the phone to the ambulance and said that they had been told to hang Eli upside down and shake him."
'Take him home'
Ms Jenkins told the court Ms Cox was very upset and wanted to leave after the meeting with the consultant, but returned an hour later.
"She gave Eli a kiss, held his hand and said 'who could do something like this?'
"Then she said to me that she'd wished she'd never left him alone."
The court was read a note consultant Dr David McCormick had made after meeting with Ms Cox to discuss her son's prognosis.
He wrote: "I advised Katherine Cox that in my opinion, that if Eli survives, he will be significantly developmentally impaired, may never walk or talk.
"Katherine Cox stated that she just wanted him to survive so she could take him home."
The court has heard post-mortem examinations showed Eli's death was caused by a head injury of a "shaking or shaking impact type".
Mother-of-nine Ms Cox and Mr Shepherd deny the charges against them.
The trial continues.