Train misses car 'by seconds' at Canterbury level crossing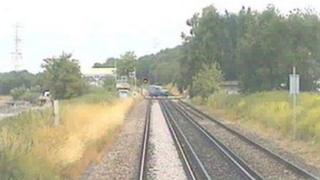 A train narrowly missed hitting a car on a level crossing after barriers failed to close, the Rail Accident Investigation Branch has reported.
The Southeastern train passed over the Broad Oak crossing near Canterbury with the barriers raised on 29 June.
CCTV from the train driver's cab shows a car crossing the road about 12 seconds before the train reached the crossing.
The driver, who recognised the danger, had already slowed the train.
The Rail Accident Investigation Branch has undertaken a preliminary examination and is due to issue new safety information, a spokesman said.